3-D Permanent Makeup
In the morning, look at yourself in the mirror and just think, "WOW".
Anyone who wants to replace daily, elaborate makeup or just correct small defects permanently will be impressed by the professionally applied "solution" of 3-D Permanent Makeup by BEAUTY PROFESSIONAL.
Whether you want perfect eyeliner, seductive eyebrows or sensual lips -- the unique beauty of the professional shading technique by BEAUTY PROFESSIONAL consistently gives an absolutely natural-looking result.
And, if you don't tell anyone that you've had this procedure, who would know?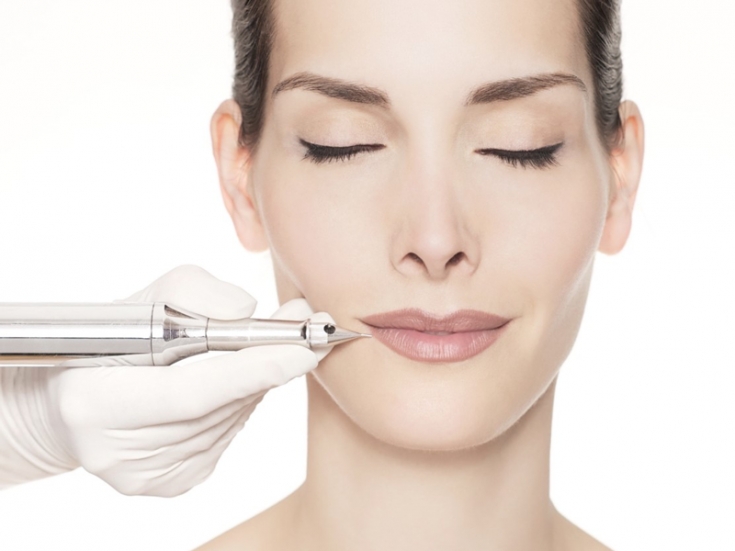 Microblading
Microblading of the eyebrows is the Japanese hand-pigmented method for delicate eyebrow drawing. This process is the newest innovation in the field of Permanent Makeup, offering an even finer eyebrow pigmentation.

Our Microblading process gives you perfect, Permanent Makeup eyebrows that have been framed and outlined by a careful selection of colors and shapes. The Permanent Makeup is virtually undetectable and is not seen as "artificially designed."
With the Microblading method, you will get a more real-looking eyebrow than was previously possible with other techniques.
Microblading is a component of Permanent Makeup techniques and is another, new technique to give natural-looking color to the skin.

BEAUTY PROFESSIONAL is one of the first institutes anywhere in Austria to offer Microblading and has a lengthy list of clients who are highly pleased with their results.
THE DIFFERENCE BETWEEN MICROBLADING AND PERMANENT MAKEUP
Microblading is a manual pigmentation method that utilizes sterile packaging papers with so-called "Blades" attached.
These "Blades" are small pieces of needles that are packaged together and resemble a small scalpel.
Small, artistic strokes are made in the form of hairs with gentle pressure on the skin to form an outline. Next, this outline is gently abraded and pigment color is applied to the skin. Then, another layer of color is delicately massaged into the skin. This new color mask must stay for 10 minutes to make sure that the healing is complete and the color has been incorporated.

The difference? With the mechanical process of Permanent Makeup, color is introduced directly into the skin with a needle.
However, with the Microblading method, the hairs remain visible and attractive on the skin, but are less permanent.


WHEN CAN A PERSON NOT BE TREATED?
If the eyebrow area shows signs of:


Eczema
Psoriasis
Seborrheic Dermatitis
Keratoses
Red veinlets
Tendency to Keloids
Moles
Seb. Oleosa = very oily skin
Very scaly, dry skin
Large pore skin
DURABILITY
("Shelf Life")
The durability or so-called "shelf life" of a Microblading treatment cannot be precisely predicted, because it depends on various factors, including:
UV-radiation exposure
Environmental influences
Skin type
Metabolism
Behavior and lifestyle.
Treatment Considerations
After treatment, please observe these restrictions for 10 days:
No direct sun
No tanning beds
No sauna
No shampoo flowing over the treated area
No chlorine / No seawater
Must treat daily with Vitamin E Cream
Please also note that with the Microblading technology it is only possible to do eyebrows. However, there are some limits.
It is not possible to correct scrolled eyebrows via previous (badly shaped) Permanent Makeup treatments or lip and/or eyelid pigmentation.
Taking medications:
If you are taking any blood-thinning medication, you must obtain written permission from your doctor prior to treatment!